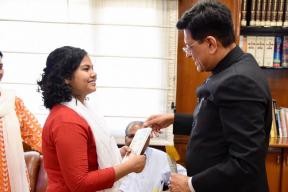 A class 9 student of a convent school in New Delhi, Anais Josemon ran away from her home after she failed in mathematics test. But never she would have thought that her conduct will virtually become a face of Prime Minister Narendra Modi's book Exam Warriors.
According to her mother, Josemon left home on March 8 as she was unable to secure passing marks in mathematic. She boarded Tamil Nadu Express from Nizamuddin station. She planned to travel to Chennai where she wants to enroll herself for Bible classes. It was only at Bhopal railway station, she was rescued by Railway Protection Force. Josemon returned home after 36 hours.
On Saturday Railway Minister Piyush Goyal met the 14-year-old Josemon and gifted her the book penned by Prime Minister.
Piyush Goyal tweets -
"Met Anaïs Josemon from New Delhi who ran away from her home due to exam pressure and now rescued promptly by Railways and reunited with her family. Also gave her a copy of the book @ExamWarriors penned by PM @NarendraModi and told her 'be an Exam Warrior, not Worrier'."
One of her family member Peters told that Josemon was very poor in mathematics and she often scores below par in the subject. Regarding the matter they tried talking to school authorities but never got a proper response. School authorities refused to respond her queries and they even refused to talk to guardians about the matter.
Family members of Josemon also discussed this problem with Railway Minister Piyush Goyal as it affects the students.
Josemon have remained as one of the many children who flee from home and later rescued by railways. Under 'Operation Muskaan' railway ministry is aiming to rescue missing children. All the major stations have been brought under ambit of this operation.
As per latest data provided by Railway Ministry, Railway Protection Force (RPF) rescued 20,931 children between 2014 to 2016. This number also includes 1317 trafficked children, out of which 944 children were boys and 373 were girls.