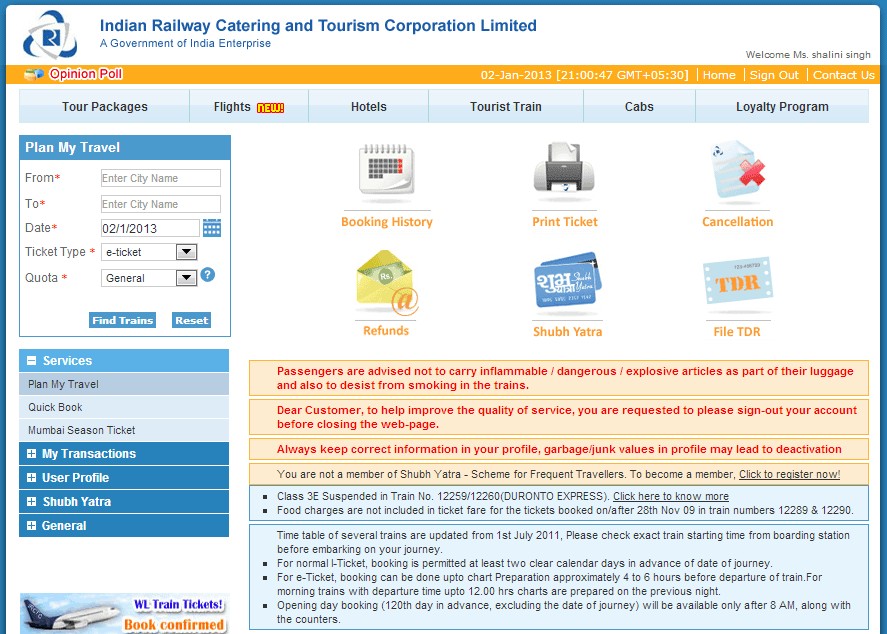 Finally, something came out on which Aadhaar card is not mulled by Indian Government. After long withstanding on side of compulsory Aadhaar for a train ticket booking, finally Ministry of Railways has made Aadhaar optional for booking train tickets. However, it still wants to encourage passengers to enter Aadhaar number while booking a ticket on voluntary basis.
Rajen Gohain, Minister of state for Railways clarified in Lok Sabha that no such proposal has been made for making Aadhaar compulsory to book a train ticket however requirement of Aadhaar verification has been introduced on voluntary basis for booking concessional railway tickets for senior citizens.
"A reward scheme has also been introduced by IRCTC to incentivize linking of Aadhaar with user ID of IRCTC," the minister said.
To encourage Aadhaar verification on voluntary basis earlier Railway has increased the limit of total number of tickets that can be booked in a month from a single user ID of IRCTC to 12 for Aadhaar verified users compared to six of non – Aadhaar verified users.
Here is how you can link your Aadhaar Number with your IRCTC account if you want to do on a voluntary basis -
Login to your IRCTC account by using your login ID and password.
Once logged in, click on My Profile given in the top menu.
Once you will click on - My Profile – You will be able to see sub-menus from which you need to select Aadhaar KYC.
Once selected, you will be taken to a new page where you will be asked to enter you Aadhaar number.
After you enter your Aadhaar number, you need to click on - send OTP (One Time Password).
A One Time Password will be sent to your Aadhaar linked mobile number
After receiving One Time Password you need to enter that password and click Verify.
If password is entered correctly, your IRCTC account will become Aadhaar verified.
After verification you will also receive a message of KYC updated successfully.
Now you can use your IRCTC account to book a maximum of 12 tickets in a month which is just double the limit of non-Aadhaar verified accounts.
To book more than six tickets a User can add Aadhaar verified passenger from master list at the time of booking.
Note that - IRCTC mentions that if a user wants to book a ticket beyond general limit of 6 per month than while booking ticket, at least one passenger in the list of travelers must be Aadhaar verified.