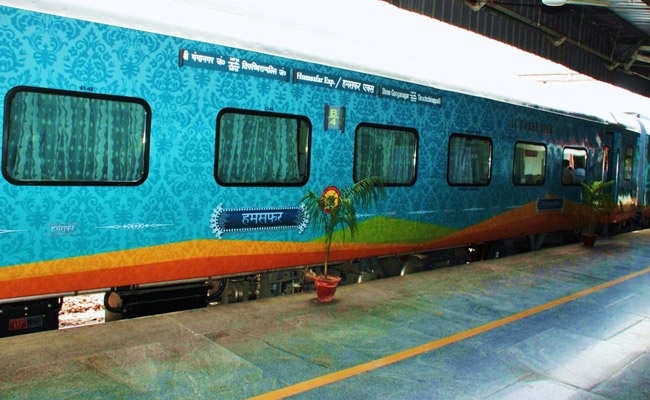 To enhance passenger comfort in its all AC3 tier coach Humsafar Express train, Indian Railways has upgraded the Humsafar Express coaches for the first time with state of art features. During launch Indian Railways emphasised that this is the first fully AC3 tier train service which will provide luxury to passengers at affordable prices. Although described with many modern features; but in its initial launch many such features were missing putting a question mark on Indian Railways definition of luxury.
Now aiming to improve the train travel experience Indian Railways has revamped it's AC3 tier train with notable features like baby nappy changing pads, tea and coffee machines, easier upper berth climbing arrangement, GPS based passenger information system and fire / smoke detectors. Here are the five such features which you should know about the upgraded coaches of Humsafar train that should have been a part of its initial launch -
LED screens are installed in every coach of Humsafar express to display various information such as train speed, arriving station, on coming stations and estimated travel time etc.
Side curtains like AC2 tier coaches were missing in few Humsafar express earlier are installed now.
Berths in Humsafar express are made even more comfortable than earlier.
Indian Railways will now provide Khadi Bedrolls in Humsafar coaches.
There will be refrigerating and heating chamber in every coach of Humsafar express train to preserve the food.
To give information about revamped Humsafar express train, railway Minister Piyush Goyal wrote on Twitter - Indian Railways has revamped the Humsafar Express with state-of-the-art features to enhance passenger comfort. Check out some of the new amenities the train offers to its passengers.
The first Humsafar train was announced to run between Gorakhpur and Anand Vihar terminal Delhi on December 16 last year. Fare of these trains were announced 15 to 20% higher compared to regular AC3 tier trains of Indian Railways.
The upgradation of Humsafar coaches was long awaited from the time these trains were launched last year, as most of the passengers find difficult to justify the extra cost of Humsafar Express train fare over regular trains.