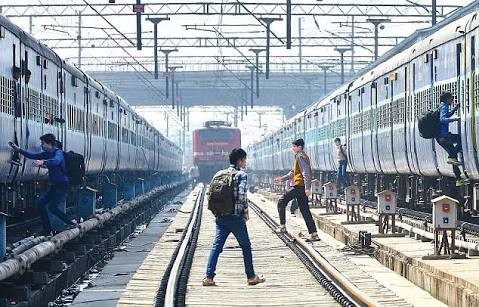 Even if Indian Railways lag behind in most of the areas compared to the modern Railway system in some developed countries there is one area where it is struggles the most; that is speed and efficiency. Indian Railways is far behind in this area compared to other modern Railway systems and considering all the possibilities we do not see Railways to gain ground on it; forget overtaking.
We often here that Indian Railways is working on a semi high speed rail project but all the work is limited to only surveys till date. When a train is termed as superfast on IRCTC website you can expect an average speed of not more than 54 km per hour only. The premium trains like Rajdhani and Shatabdi can be expected to run with an average speed of around 80 km per hour which is light years behind some of the premium trains of Japan, France, China and Germany. Whenever the question of speed pops up in front of Railways, officials only blame it's century old infrastructure which no doubt is true. But besides infrastructure there are several other factors like traffic congestion, Technology and the design of trains that does not allow Indian Railways to operate at relatively higher speed.
There is only one train in India that can touch a speed of 160 km per hour (Gatimaan Express) but only for a short period of time. Most of the express or superfast trains in India runs at a maximum speed of 110 km per hour, even the premium trains like Rajdhani Express runs at maximum of 130 km per hour over certain stretches. So what are the main reasons that can be listed for such a good performance of our national carrier?
The first and the biggest reason is heavy congestion on the railway track
Currently the biggest challenge for Indian Railways is insufficient number of cracks compared to the large number of trains being operated on it. Every year we hear that dozens of new trains are announced connecting cities but they still run on the same old infrastructure and tracks. This does not allow Railway to operate its trains at optimum speed because the tracks are not clear. Due to congestion Railway is not even able to achieve its average speed of 54 km per hour on a consistent basis, due to which there are innumerable delays. Only trains like Shatabdi and Rajdhani gets clearance due to their highest priority on the tracks but apart from these trains every other train has to wait for another train to pass before moving ahead.
The ground reality is for from the Promises of getting modernised
Indian Railways is a still operating on the same century-old infrastructure which had never been modernised with time. Recently there is an effort by the national carriers to modernize its infrastructure and switch to more modern techniques ditching the old ones. This however will take too much time and in the meantime trains will be operated in the same old fashion of early 90s or 80s. What happens is that when an Express train is stopped due to a passenger train ahead of it, it has to wait for the passenger train to deboard its passengers and move ahead clearing the track. Till then express train has to wait which makes a normal 2 minutes stoppage to 15 minutes stoppage. Such frequent stops converts to hours and hours of delay in the end of journey.
Design of Indian trains
Still most of the trains being operated in India carry the age old design even which is flawed by today's standards. Although Railway is slowly switching to link Hoffman Bush -LHB coaches which are modern and more safe, but you can expect a total conversion in not less than a decade or so. The current old design of trains does not allow to carry good speed on the tracks. The old chain and buffer coupling system has always been a major roadblock in this. In developed railway systems of world EMU is often used to cover long distances as it allows to accelerate and the accelerate fast besides enhancing the speed. Indian Railways still does not operate EMUs over long distances.
Regulation on speed due to poor infrastructure
Due to poor infrastructure Railway has to impose speed restrictions that can be temporary or permanent to Slow Down The Train on a particular stretch and while crossing stations. Normally when a train approaches station the speed is restricted at a maximum of 30 km per hour but due to old tracks and continuous maintenance work the loco pilot has to Slow Down The speed far ahead before reaching the station thereby loosing time. Apart from temporary speed restrictions, permanent speed restrictions are imposed over Ghat section over a hilly terrain and on old rail bridges which are available in shear numbers throughout the country. However it is expected that a train has to move slow over a Ghat section but what it is not expected is that a train has to also move slow while crossing a populated city which again are in abundance in our country. This tells that Railway never spent much to fence such corridors.
Timetable of the trains
This may sound rather questionable but it is true that time table of a train also govern the speed of that train. If compared to other countries speed of a train is set as per the distance travel by the train between source and destination station. But in India the average speed of a train is based on the number of trains passing on the track. This forces Railway authorities to schedule the train time table according to the congestion on the track which in most cases robs the speed of train.

These are the 5 most important reasons that makes Indian Railways one of the least efficient and unpunctual rail network in the world. However Indian government is working on to improve the infrastructure and modernizing railway network by upgrading to modern techniques which which will improve speed and punctuality of trains. In a decade or so we can expect some improvement, at least in average speed especially after modernization and other technological advances in the way Indian trains are being built and run; until the time comes Travellers in India have to suffer on every Indian train.