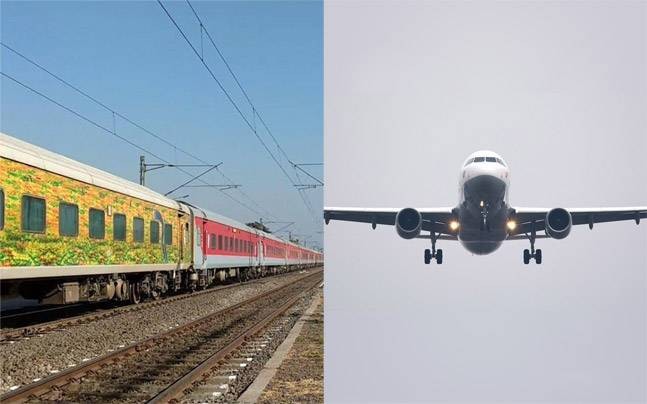 A recent report by Ministry of Railways states a bitter truth for Railways which is currently the preferred choice of mode of transportation among Indians. The report states that in the coming three years air travel will become the number one choice for travellers and domestic airlines will soon supersede railways. However you must be thinking that railway ferry passengers in such huge numbers, how can this be possible? How can air travel supersede Indian railways?
The problem with Indian Railways is that despite dealing in huge number of passengers, the actual profitable segment for railway is passengers travelling in air-conditioned class which is just a small fraction of the total number of passengers. With rising fares and lack of amenities, more and more passengers are opting air travel over railways unless they are compelled to. At this juncture when overall passenger traffic is booming continuously with every passing day, Indian Railways is still struggling to keep its momentum due to lack of basic infrastructure and other basic facilities such as hygienic food, slow speeds, non-punctual trains etc. If we had to take a second look on the report, the finding hardly came as a surprise. So here are the six obvious reasons why you will prefer air travel than compared to train travel -
Luxury of time -
In today's age for most of us time is a luxury and obviously air travel time will be much shorter than compared to time taken by train. As per the latest statistics out of all domestic travellers, 25 percent are opting air travel as a mode of transport within a distance of 500km. Inter-city travel within a distance of 500km was earlier dominated Indian Railways but gradually with time smaller cities and towns are now connected by flights at affordable rates. This has robbed passengers from Indian Railways who prefer to travel in premier trains like Shatabdi or in AC coaches.
New UDAAN scheme by government -
Recently Indian government introduced UDAAN that facilitates passengers to travel at Rs 2500 to for an hour. Any inter-city travel by air will easily fall under this scheme giving travellers an option to fly conveniently, comfortably and safely, therefore, its natural for people to choose air travel over trains.
Bad hygiene in Indian Railways -
Indian Railways is trying to fight with Hygiene for many years now; yet the fight is not over yet and we do not know till when it will last long. Travelling on flights are way more hygienic than trains. Latest CAG report highlighted the fact that despite making tall claims, human discharge can be seen on tracks, besides bio toilets are generally found to choked or unusable due extreme foul smell emanation. Also food served on trains does not meet any standard norms and are contaminated most of the times. Often passengers complain about unwashed blankets and bed roll provided in AC coaches. All these problems will naturally force people to move towards air travel.
Airlines provide better service than Indian Railways
It is easier to get a seat anytime besides flight attendants try their best to provide better service to passengers. By just pushing a button on-board attendant will attend you instantly and if you are in any kind of problem or need; it will be resolved. All these things does make a difference.
Security and safety -
How many times you hear news related to theft of luggage from the most secured AC coaches of Rajdhani Express trains; forget normal express trains. These days passengers are scared to carry any precious items on trains even if it is necessary. However if you do carry often you will loose your sleep fearing theft of your luggage. Also continuous trail of train accidents has robbed the confidence of safety among passengers forcing them towards air-travel.
Trains not running on time -
Currently 95 percent of so-called Superfast trains arrive late at their destinations as highlighted by CAG report. Indian Railways is still struggling to maintain its trains on proper schedule. However, delay does plague airlines too but not like railways in which trains can run late upto 27 hours late agonising passengers beyond limits. Even though railway is trying hard to bring bullet trains in India, but how much time such projects will take to shape up it's not known. Often we here that passengers need to fight with rail employees due to delay in operation of a train. All these things are unheard in airlines.